Network
Advanced Human Technologies draws on an extensive global network of best-of-breed experts and practitioners. Our network includes:
acidlabs


acidlabs help individuals, brands and organisations understand their clients, stakeholders and people by working with them on listening, engaging and being human. They focus on three core values – Conversation. Collaboration. Community.
Patti Anklam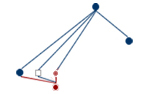 Patti Anklam and her associates offer consulting services that bring the network view into focus, enabling leaders and network facilitators to guide their networks' purpose, structure, style, and value to achieve results that can only be accomplished through collaboration.
Kate Carruthers


Kate has a breadth of experience in business and enterprise information technology. At present her focus is online collaboration, social computing, digital media, and integration of online and offline strategies. She has first hand experience in the role of social computing technologies at enterprise level; the challenges, risks and power these technologies have in assisting with internal and external communication.
Optimice


Optimice provides specialised consulting services to help organisations map and improve business relationships at multiple levels.
Pollenizer


Globally, Pollenizer has worked with more than 40 teams to build successful businesses. From back-of-a-napkin ideas to skunk-works projects for major corporations, if you want to build a business, then we can help you do it.
ValueNetworks.com


ValueNetworks.com was founded in 2008 by world renowned value networks consultant Verna Allee and a team of expert technologists. We have a several year advantage in the technology, methodology, and experience that it takes to deliver breakthrough business results through value network analysis – from board room to shop floor, to business webs, to global humanitarian networks.